Buy from Amazon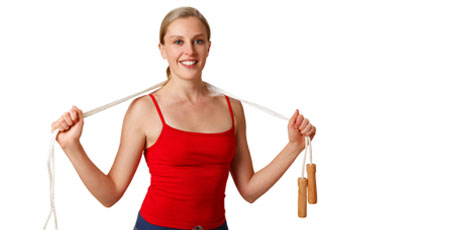 Benefits Of Skipping for Fitness
Get Yourself a Skipping Rope and Try Skipping for Fitness
Did you know that skipping can burn up to 320 kcal per 30 minutes? Definitely worth the effort!
Definitely worth buying yourself a skipping rope if you are trying to get fit, lose some pounds or maintain a healthy weight. The science of skipping shows that it strengthens your cardiovascular system, improves your agility, tones the muscles in your legs as well as toning your abdominals, back, chest and shoulders. It's inexpensive, can be done almost anywhere and it's really good fun.
Skipping for Improved Cardiovascular Fitness
Skipping is definitely an excellent exercise for improving cardiovascular fitness and whilst this might be surprising, if done correctly, using that skipping rope is medium impact, rather like a brisk walk. Medium impact activity, like skipping, places less stress on the joints than high impact activity. The health benefits of improving cardiovascular fitness are well understood and skipping as a moderate activity can really take you a long way towards reaching the recommended goal of including 30 minutes of activity in your lifestyle 3 times a week.
Skipping for Overall Health Benefits and Weight Loss
Regular exercise with a skipping rope can help reduce the risk of heart disease, lower blood pressure and cholesterol levels and let's not forget it also helps if you are trying to lose or maintain a healthy weight. Most organisations involved in health and weight management tell us that keeping food and exercise diaries and setting clear activity goals is a more effective way of motivating yourself and sticking with your chosen activity. The Tanita Calorie Jump Skipping Rope can be used to measure what you have achieved – number of skips and calories burned. Combine this with keeping a diary of your food intake and exercise expenditure and you are well on the way to successfully improving your health and fitness.
Why Skipping?
Here are a few of the benefits of getting a skipping rope…
Improves heart rate and blood pressure
Cheap and convenient
Almost anyone can do it at a level that suits them
Promotes fat loss
Improves flexibility
Improves co-ordination and balance
Improves muscle tone in both the lower and upper body
Can help in improving bone density
According to the British Rope Skipping Association, 10 minutes of skipping can have the same health benefits as a 45 minute hard run. For those of us who have hectic lifestyles where fitting in exercise is always a struggle - this is great news.
Highly portable and very convenient, skipping can be done in most places and at your own level. If you are a beginner, creating a 'circuit' by mixing short periods of skipping with marching on the spot or some strength training is ideal and will help you build up to longer periods very quickly.
Basics to skipping for fitness:
Skip in trainers
Keep your elbows tucked in
Try not to lean forward
Skip reasonably fast so you do not get the rope caught under your feet
Keep the skipping rope tight and close to your head
Try to alternate feet – it takes practice and worth trying to jump a few times on one foot them the other as a starting point, once you have mastered this then jump from one foot to the other alternately
Skip to some cool music and combine different foot combinations
Start with a 3:1 ratio, 1 min skipping to 3 mins of lower intensity exercise such as marching on the spot or strength training
Mix the skipping with some strength training to really improve your fitness
Skip to music to keep up the pace and maintain motivation. There are lots of free downloads on the internet such as 'Exercise Radio'
If you have joint problems or are starting exercise for the first time, it is worth checking with your doctor first before starting a programme of exercise.
Make it different
Cross it - On each jump try a simple variation where you cross & uncross your feet.
One footed - Try skipping on one foot rather than two - you will definitely feel your calves working.
Jumping jacks - Jumping jacks as you jump. First jump land with your legs apart, second jump land with your legs together.
Jogging - Jogging on the spot as you jump. First swing go over with one foot and then next swing go over with opposite foot.
Heel skip - Jump and touch your heel to the floor infront of you. On the next jump do the same but with the other foot.
Double jump - Simply double jump on one rotation of the skipping rope.